Let them know
you're prepared
with the Bear Aware

tm

Tee
Below are the items available at the Bear Aware, LLC kiosk. Online store coming soon!
Bear Spray Rentals/Purchase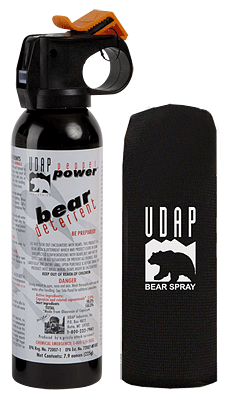 UDAP 9.2 oz. - Magnum Bear Spray
Rental - Daily (24 hours) $ 9.50
Rental -2 Days (48 hours) $18.50
Rental - Weekly (3 to 7 days) $28.00
Rental - WeekPlus (8 to 14 days) $32.00
Purchase/non-return $49.99
All in-Park rentals and sales subject to
5% WY sales tax.
Rental Policy
Deposit of $49.99 due at time of rental.
If the cannister is returned unsprayed and undamaged, you will be refunded the deposit less rental charges.
If cannister is sprayed and/or damaged, deposit will not be refunded and rental becomes purchase.
Bear Aware Tee Shirt
$18.95
Bear Aware Tee-Shirt featuring the Bear Aware Pledge.
Let everyone know you're prepared and ready to explore Bear Country safely.



Need a great belt to carry your gear?
(click on photos for prices)
Jelt - A Montana company
Jelt is a modern-retro belt, with a nod to 80's fashion. It's made from 100% recycled water bottles, has a patent-pending buckle design that won't show a bulge under fitted shirts and an inner gel that grips to pants. The fact that there are no metal parts means it is great for traveling and can be worn through security checkpoints. Bonus! www.jeltbelt.com
​
Alpine Bear Bell
$5.75
​
Made in the USA by Bevin Bros. Mgf. Co. of East Hampton, CT the oldest surviving bellmaker in the US (Est. 1832, yes 18!). Bevin Bros. makes the famous Salvation Army bells and in the Christmas movie,

It's A Wonderful Life

, it's a Bevin bell that rings during the closing scene of the film. We are very proud to offer these high quality, American made bear bells.
​
​
Hiker Bear Bell
$8.00
Silverfoot hiker bear bell (made in Canada) is a must for any backcountry hikers. 35mm round nickel bell with Velcro closure. Available in silver, red, blue, green and yellow.
Day Hikes in Yellowstone National Park (4th Ed.)
$12.95
Best Guidebook Award: Rocky Mountain Outdoor Writers & Photographers. An award winning book from the Rocky Mountain Outdoor Writers and Photographers) includes a thorough cross-section of 82 hikes throughout this national park.
Now in its fourth edition, the guide includes all of the park's most popular hikes as well as a wide assortment of secluded backcountry trails.
Bear Aware: The Quick Reference Bear Country
Survival Guide (Falcon Guides), (4th Ed.)
$9.95
This handy, packable guide will show you preventive measures that can reduce your chances of coming across a bear and techniques that can minimize your risk of being injured. With Bear Aware you'll learn how to safely hike and camp in bear country, store food to keep campsites bear free, and handle close encounters.
HELP SAVE GRIZZLY BEARS AND THEIR HABITAT
Vital Ground is taking critical actions to save grizzly bears. To date, they have helped to protect, enhance and conserve 618,000 acres of crucial wildlife habitat in Montana, Idaho, Wyoming, Alaska, and British Columbia. The organization's dedication to conserving grizzly bear range goes beyond saving a single species. When there is enough "vital ground" a multitude of other animals, plants, and fragile ecosystems benefit as well.
CLICK logo to learn more: